1. It is hard being fit.
If we look at the distribution of fitness effects of all the mutations, strains that start out better (that are more fit, that grow faster), have worse options - the drawing below shows the basic features of this distribution of fitness effects, and the graph shows a real distribution from one strain in the experiment - you can move the slider at the bottom to see how the distribution changes as you scroll through the list of strains, which are sorted from least fit to most fit. Each individual distribution is a little noisy, but you should be able to see the mean, indicated by a red line, shift to the left as you slide towards more fit strains.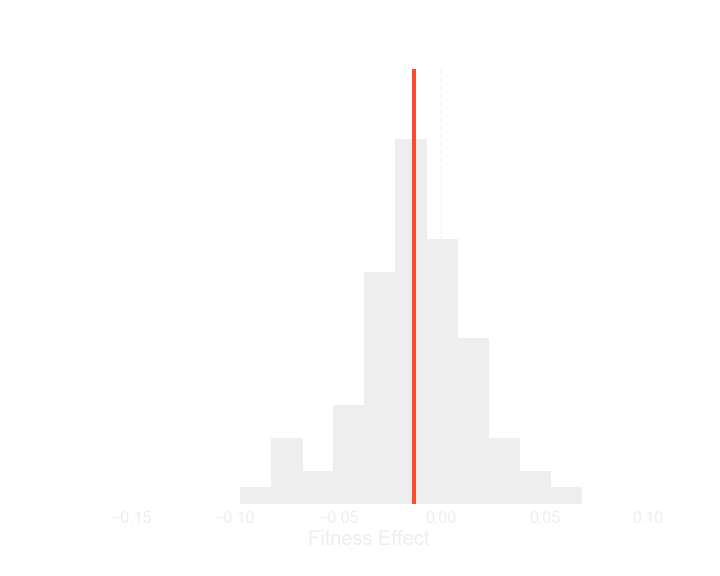 Least fit segregant
Most fit segregant
2. For individual mutations, there are a ton of different patterns of interactions (epistasis)!
In the plots below, each point represents the fitness effect of a particular mutation in one strain. Its x-axis value represents the starting fitness of that strain (how well it grows to begin with), and its y-axis value represents the fitness effect of the mutation (positive values mean it is beneficial, negative means deleterious). Click through the slideshow below to see graphics of some of the patterns of epistasis we observe, such as diminishing returns (when a mutation is less beneficial in strains that start out more fit) and increasing costs (when a mutation is more deleterious in strains that start out more fit)
Below is a data browser where data for each insertion mutation is shown in a separate graph, sorted by variance in fitness effect.
Click on a plot to see more about that mutation
If the mutation's fitness effect depends on whether the strain has mom's or dad's allele at some specific loci, we change the color or shape of the points to represent the different alleles at these loci (only the two most important are shown if there are more than two)
Click on a point to see the barcode frequency data that we used to measure that fitness effect
Links in the mutation description go to the awesome SGD website that has tons of extra yeast genetics info!
Interactive data browser (click to expand, may take a while to load/run)
Looking at all of these mutations, we can see that most correlations between background fitness and the fitness effect of one mutations are negative - mutations tend to be worse in strains that start out better. This helps explain the shifting distributions we saw above. BUT (AND THIS IS INDEED A BIG IMPORTANT BUT) not all mutations have simple negative correlations - some are the opposite, some have similar effects across genetic backgrounds ("low epistasis"), and others have interactions with specific QTLs (interactions with mutations that differentiate the two parents of the yeast cross). Still, there are a ton of cases of "increasing costs," where mutations are more deleterious in more fit strains. I like to think of this pattern through... SURPRISE, a metaphor:

Let's say you work in an office as part of team that produces something cool (let your imagination run wild), and this team is a WELL-OILED MACHINE! Everyone is communicating seamlessly, working efficiently, and production is high. Then you have a bad day. Maybe you stayed up too late the night before, maybe you're distracted by something in your personal life, maybe you're just in an unexplainable painful slump. Since everyone else is so efficient, your bad day is likely to cause a big slow down in production. Now imagine that instead the team is a disaster to begin with. Nobody is communicating, several people are painfully slow at completing their tasks, and you finish your work with time to spare every day. In this case your bad day might not matter at all! Note that if we apply this metaphor to some of our data, where our negative correlations cross zero, having a bad day as part of a bad team sometimes even improves overall productivity - this definitely strains the metaphor a bit, but it is an interesting observation for which we don't really have any good explanation as of now!
close